Río San Juan
Nicaragua is divided into states known as departments. The country's most southern department, Rio San Juan, is full of wildlife and bordered by Lake Nicaragua and the San Juan River. Historically, pirates and colonialists made their way through this region in search of treasure. Today, Rio San Juan is a popular area for fishing and water activities, and still holds many mysteries waiting to be discovered.
San Carlos
Founded in 1527, San Carlos is the capital of Rio San Juan and its location at the intersection of Lake Nicaragua and the San Juan River has made it an important port for the area. From San Carlos you can venture by boat to Ometepe, Granada and Solentiname, and tour the San Juan River. Visitors to San Carlos will find comfortable lodgings, as well as first-rate restaurants where they serve just-caught Sábalo (tarpon) and Guapote. San Carlos' pier is an excellent viewing spot to appreciate this water paradise and all its natural beauty. You can travel to San Carlos by air, bus or by 4-wheel drive vehicles from Managua.
The José Coronel Urtecho Cultural Center
Dedicated to the memory of the famous Nicaraguan poet, the Jose Coronel Urtecho Cultural Center is located in San Carlos' central park, and is a great educational resource on the history, flora, and fauna of the San Juan River. The center is built within the walls of a Spanish colonial fortress turned prison, turned police station. Now it has been completely remodeled to become one of the main attractions of San Carlos, housing the city library and meeting hall for concerts and other cultural events.
Los Guatuzos Wildlife Refuge
Located south of Lake Nicaragua, Los Guatuzos Wildlife Refuge stretches over 437 square kilometers (168.7 square miles), and consists of a system of wetlands that includes more than a dozen rivers and ponds. In 1997, Los Guatuzos Wildlife Refuge was added to the Ramsar Convention's list of internationally important wetlands. This area is the perfect place for bird watching and observing wildlife including caiman crocodiles, sloths and monkeys. In addition, visitors can visit an orchid nursery and breeding centers for freshwater turtles and alligators.
Solentiname
Located 45 minutes away by speedboat from San Carlos is the Solentiname Archipelago. In Náhuatl its name means "place of rest" and its 36 enchanting islands include Mancarrón, Mancarroncito, La Venada, and San Fernando. The islands are known for their native artisans, who create paintings and woodcrafts. Mancarrón offers picturesque scenery and tours of ancient petrographs; in San Fernando you can visit the Casa Cultural (Cultural House) and its museum; in La Venada you can visit the artisans and learn about their woodcraft art.
Sábalos
Two hours from San Carlos, where the San Juan River joins the Sábalos River, is the small rural community of Sábalos. In the surrounding area there are country houses and private reserves offering activities that include agrotourism, hiking and swimming in hot springs. Sábalos is known for its charming rustic cabins surrounded by dense rainforest.
Discovering the Castle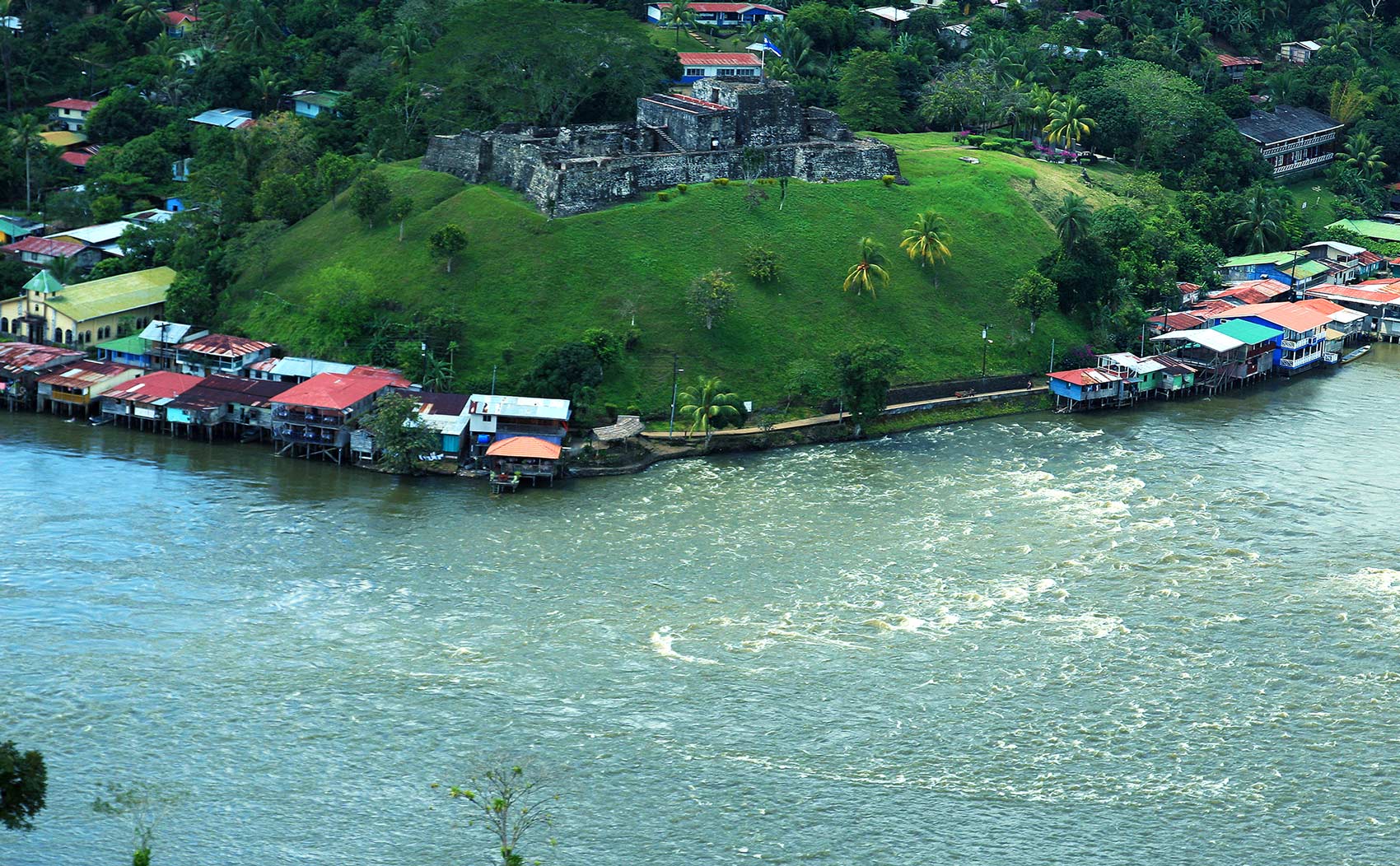 Immaculada Conception Castle is not far from San Carlos by boat. Built by the Spanish in 1675, the ruins of an old Spanish fort stand on a hill, guarding the river communities from Caribbean pirates. It was here in 1780 that Horatio Nelson, then a young captain, met defeat in an attempt to capture Granada and Leon, to assure the British a route between the Atlantic and Pacific. Inside the fort, you can visit the museum and its exhibits that illustrate the story and historical importance of this legendary place.
The Indio Maíz Biololgical Reserve
The Indio Maíz Biological Reserve covers more than 3,000 square kilometers (1,158 square miles) of lowland rainforest and is home to hundreds of species of animals, insects, and trees. This lush paradise is the habitat of pumas and jaguars, which might be heard roaring at night in the distant jungle. Indio Maíz also has manatees and the nation's largest variety of birds. Descendants of the indigenous people still live here and offer excellent guided tours.
Greytown, The Lost City
In the 19th century, the Caribbean coast town of San Juan del Norte was a prosperous community inhabited by Spanish and Nicaraguans. However in 1841, the British invaded and eventually renamed it Greytown, in honor of then-governor of Jamaica, Sir Charles Grey. Located almost at the mouth of the San Juan de Nicaragua River, Greytown has an interesting history that can only be understood completely by a personal visit. During its tumultuous history, Greytown served as a hub along the Central American route to the California Gold Rush.
In the 1850's, gold-seekers looking for a faster route to California than across North America by stage coach, would take a Clipper ship from New York to Greytown, then board a boat up the San Juan River and cross Lake Nicaragua. From the western shore of Lake Nicaragua they would go by mule the few kilometers to San Juan del Sur, a port on Nicaragua's Pacific Coast. There, Clipper ships would be waiting to take them north to San Francisco and the gold fields of the Sierras. In Greytown, you can also see the remains of an unsuccessful attempt to build an inter-ocean canal, long before the Panama Canal was constructed. In addition, the Laguna Azul (Blue Lagoon), surrounding trails, and local cemetery are all fascinating nearby attractions to explore.
Adventure Fishing in the San Juan River
Situated in such a perfect watery landscape, the San Juan River provides the opportunity for magnificent sport fishing. Tarpon (el Sábalo) is the most sought-after game fish. To preserve this unique species, which sometimes weighs as much as 100 pounds, fishing for tarpon is strictly on a catch-and-release basis. With luck, you may spot the unusual fresh water sharks and the mountain fish, which are both protected species.