[vc_row][vc_column][vc_column_text]
The Central American and Caribbean Digital Newspaper dedicated an article about the Nicaraguan beaches, highlighting the singularities and beauties of the coasts of this colorful and diverse country.
Under the headline "Nicaragua conquers international surfers with its waves", the media offers a description of what in its opinion are the five best beaches in the country.
Get to know them!
Puerto Sandino:
Without a doubt one of the best waves and the longest in Nicaragua.
Located near the highway to the city of León, this sandbar is the creator of waves from 300 to 500 meters.
It is excellent for tubing and is formed with medium and large swells. It works only at low tide. It can only be reached by a 15-minute boat ride.
On the beaches of Miramar, good winds create five types of waves allowing point breaks, beach breaks, and slabs.
Playa Popoyo:
It has the most famous and consistent waves in Nicaragua. You can surf on all tides. This "A" shaped wave creates large walls from right to left with occasional barrels.
Paddling further out to sea, or with a boat, you can reach the reef outside Popoyo which is a real challenge. It is without a doubt one of the heaviest waves in Central America. It works best with medium boards and during low tide.
Located in the municipality of Tola, Rivas department, this beach is recommended only for professionals and kamikazes. Shallow reefs must be taken into account. The wind blows towards the sea more than 300 days a year.
Playa Colorado:
There are two famous waves on this beach. The wave of the Colorado River is formed at the mouth of an estuary, it throws perfect barrels on the right and left. It is without a doubt one of the best waves in Tola. This beach is located in the private tourist development "Iguana", in the department of Rivas.
The other wave is Panga Drops. This heavy wave is shaped like a horseshoe and manages to maximize the size of any incoming swell. It is known for its fast starts, huge walls, and occasional barrels. Works best with medium boards and during low tide.
Playa Aserradores: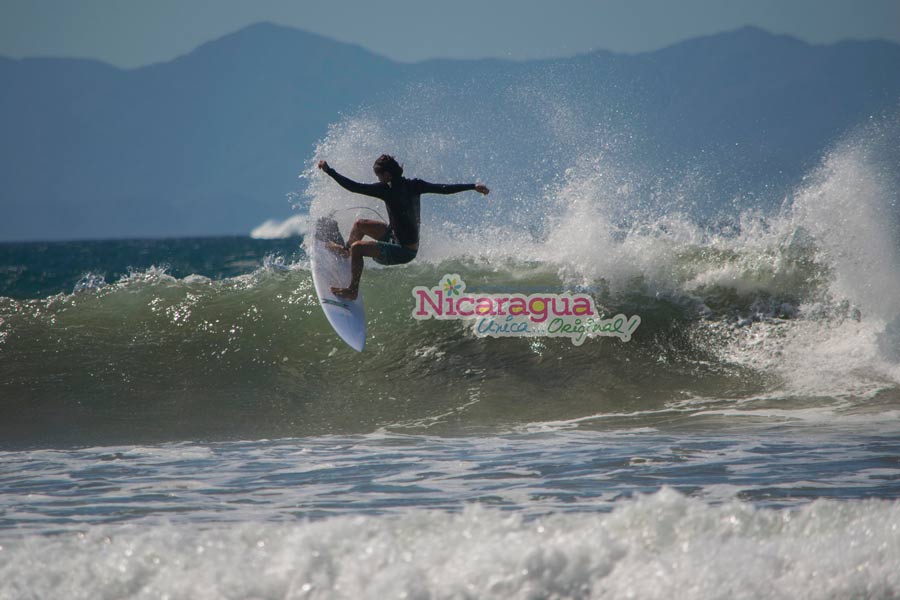 In the municipality of El Viejo, northeast of Chinandega. This beach is different for its black sands and volcanic sediments.
The wave is known as "El Boom", it is popular for its high peaks and for being hollow. With a short boat trip, you can also reach an island that has two more breaks that guarantee optimal conditions for surfing.
Playa San Diego: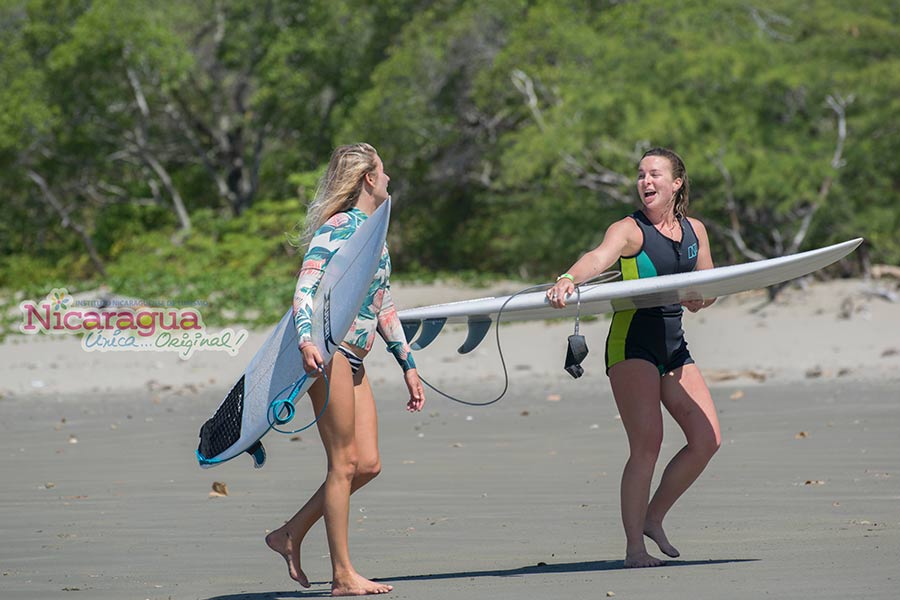 It is located in the Gran Pacifica tourist development, in Villa El Carmen, department of Managua. It is one of the most preferred waves by professional surfers.
Its rocky and coral surface makes for a solid, fast, and consistent left wave that is easy to pipe. It surfs well with medium and large swells and works best at high tide.
[/vc_column_text][/vc_column][/vc_row]